---

History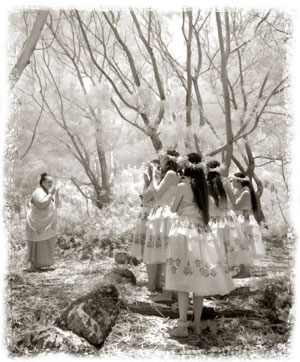 In 1967 the Cooke family built a retreat for themselves on land that had been in the family since 1908. Twenty-two years later, in 1989, Rik and Bronwyn Cooke began to teach photography classes in the family lodge, which had now become their residence.



As the workshops grew in frequency, they learned how satisfying it was to share their home and land with others. Soon Rik spent less time as a photographer and more time as a land steward and they began to donate their home to the organization for educational purposes and reforestation of the surrounding acres. As both students and teachers reported having experiences that changed their lives for the better, more teachers inquired about teaching at their home. The land was being transformed and strengthened in the process.



In 1994, Hui Ho'olana was formed and granted a 501(c3) to run educational workshops. Rev. Lehua Mokuilima gave the organization its name saying, ho'olana is a word of hope and inspiration, "the type of inspiration that floats up from within the heart". It means "to encourage, to float, to bring back into balance - as in righting a canoe; and to comfort those who are mourning." We hope to live up to her blessing.



In 1997, Butch Haase began a reforestation project on the land, cutting down eroding eucalyptus trees and reintroducing native and endangered species. Since then, they have planted over 300 native species. Hui Ho'olana is now considered by many teachers to be one of the finest small workshop facilities in the world and the reforestation project is considered one of best ecosystem reconstruction projects in the state.