---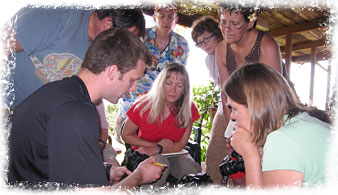 2010 Workshops


For further information or to enroll in a class, please contact the instructor listed with each individual retreat. Many classes have discounted rates for early registration. Fees are mailed to the instructor. Dates indicate the arrival and departure days.



For accommodations before or after a workshop, please look in the Visitors Center on visitmolokai.com


PLEASE CONTACT WORKSHOP LEADERS FOR WORKSHOP COSTS AND DETAILS

---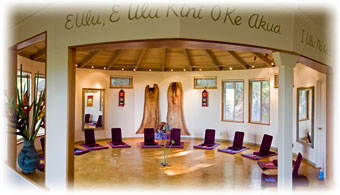 JANUARY 9-15, 2010
6th ANNUAL YOGA AND MEDITATION RETREAT
Valery Petrich
Donna Martin
#211 - 5403 Crowchild Tr. N.W.
Calgary, Alberta
(403) 270-9691
Website: yogastudiocalgary.com
Email: yogalady@telus.net
Website: www.donnamartin.net
Email: hakomiway@gmail.com



Join Valery and Donna for a gentle approach to yoga in a safe, sacred and supportive environment. Enjoy daily yoga practice honoring the peace and beauty that the island of Molokai invites. Individual needs are addressed so each person may flourish. After breakfast, restorative yoga plus an in depth view of mindfulness meditation as a way to dis-identifify from personality aspects. A wonderful yoga experience on this island paradise to clarify your life purpose and enhance your joy.



Valery Petrich is Director of The Yoga Studio of Calgary and the Yoga Studio College of Canada. She has been teaching yoga for 28 years. She is a certified Iyengar yoga teacher, a certified Psychosynthesis facilitator and an initiate in the Himalayan yoga tradition.



Donna Martin is a long time yoga teacher, Hakomi trainer and presenter at the Hui. She will offer participants an experience of Psoma Yoga - self awareness and emotional healing through applied mindfulness.



"The workshop is a journey to find the peace we are all looking for..." Jodi



6 days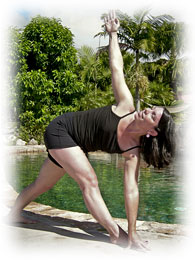 JANUARY 23-29, 2010
YOGA RETREAT
Sue Brantley
4511 NE 31st Avenue
Portland, Oregon 97211
503 407-9677
Web site: Sue Brantley
email: suebrantley@comcast.net



Join Sue Brantley for a week of yoga, chi kung, pranayama and meditation. Each morning there will be a 3 hour active asana class, which includes some Pilates. There will also be 4 evening sessions of gentle asana, chi kung, pranayama and meditation. That leaves plenty of time to explore the beautiful and unspoiled island. Sue structures retreats to include meaningful yoga work combined with the feel of a true vacation. Her clear, supportive instruction and joyful demeanor result in a relaxed yet deep experience.



Sue Brantley is a certified yoga and Pilates instructor. She comes from a diverse movement background that includes many styles of yoga, therapeutic yoga and Pilates, many forms of dance, tai chi, and chi kung. Sue began practicing yoga in 1985, and has studied with Rodney Yee, Judith Lasatar, and Elise Miller. Sue brings an eclectic approach to her retreats and workshops.



6 days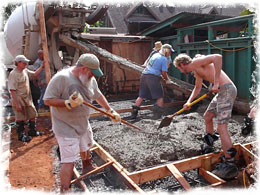 FEBRUARY 4-14, 2010
GREAT FULLNESS CAMP
Hui Ho'olana Staff
PO Box 280, Kualapuu, HI 96757
(808) 567-6430
email: hui@aloha.net



This week of community building, education and family fun is dedicated to enjoying each other's company as we playfully work, learn and mindfully create together. There will be carpentry, planting and maintenance projects as well as cooking opportunities. Teams will work together in the garden, on the land and on building projects while forming relationships and learning from each other.



We will divide into teams and make a schedule (working about 4 hours in the morning and 3 in the afternoon) with a day and a half off for beach and play.



This reunion fills quickly, so please register soon. It is open to friends, family and people who have participated in a workshop here in the past. We look forward to music and singing so please bring musical instruments!



Call, write or email for an application to attend.



10 days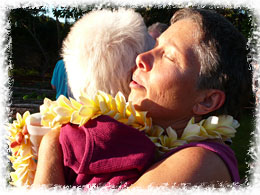 FEBRUARY 20-26, 2010
WHAT'S IN THE WAY IS THE WAY
Mary O'Malley & Neale Donald Walsh
908-3rd Street
Kirkland, WA 98033
(425) 889-5937
Web site: Mary O'Malley
email: awaken@maryomalley.com



This retreat is a first-time collaboration of two exceptional teachers, Mary O'Malley, author of Belonging to Life and The Gift of Our Compulsions (both endorsed by Eckhart Tolle), and Neale Donald Walsch, author of Conversations With God. Both of these teachers have studied deeply the workings of the mind, and while neither teacher concentrates exclusively in any one area, Mary's emphasis will be on assisting participants to know the secrets of the mind/heart connection and how to drop into their heart, while Neale's primary focus will be to assist participants to know the mind/soul connection and how to raise their personal awareness to soul consciousness. Their wonderful mutual exploration of the three-part body-mind-spirit experience provides a rarely explored path to what it means to be fully alive.



Mary O'Malley is a speaker, author, group facilitator and counselor in private practice in Kirkland, Washington. Her work focuses on curiosity, compassion, trust, and the ability to be with whatever is showing up in our lives in a spacious and attentive way. Mary shares her awareness born out of her own life experiences with life-transforming wisdom and understanding.



Neale Donald Walsch is a modern day spiritual messenger whose words continue to touch the world in profound ways. Neale spent the majority of his life thriving professionally, yet searching for spiritual meaning before beginning his now famous conversation with God. His With God series has been translated into 34 languages, touching millions of people and inspiring important changes in their day-to-day lives.



7 days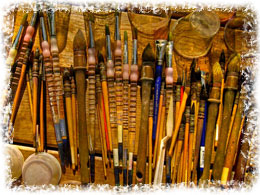 MARCH 6-16, 2010
14th Annual PAINTING INTENSIVE
The Painting Experience
Stewart Cubley
PO Box 309
Fairfax, CA 94978-0309
Phone: 888-639-8569 Toll Free
Web site: Process Arts
email: info@processarts.com



Ten days of in-depth painting with a small community in the pristine setting of Hui Ho'olana provides the opportunity to make a lasting investment in yourself and your life. The foundation of this intensive is personal attention in the painting process, in the nurturing environment, and in the small group interactions. This is Stewart's longest and most personalized group program. It has proven to be a powerful catalyst for change by all who've experienced it.



10 days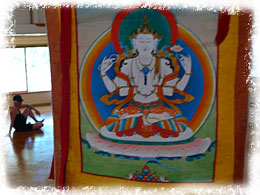 MARCH 27 - APRIL 2, 2010
YOGA RETREAT
Sue Brantley
4511 NE 31st Avenue
Portland, OR 97211
503 407-9677

Web site: Sue Brantley
email: suebrantley@comcast.net



Join Sue Brantley for an inspiring week of yoga, chi kung, pranayama and meditation. Each morning there will be a 3 hour active asana class as well as 4 gentler afternoon sessions. That leaves plenty of time to explore the beautiful and unspoiled island of Molokai. Sue structures her retreats to include meaningful yoga work combined with the feel of a fun and festive vacation.



Sue has been teaching yoga for 11 years, and is certified in both yoga and Pilates. Her inclusive style of yoga embraces the wisdom of many styles. Some of her main influences include Judith Lasater, Baxter Bell, Jason Crandall, Rodney Yee, and Bob Smith/Ki McGraw. Sue has led many yoga workshops and retreats, and is comfortable teaching students of varying levels and abilities. She creates an atmosphere of camaraderie and support among her students, and has a relaxed and warm demeanor as a teacher.



6 days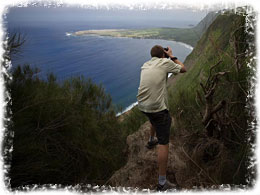 APRIL 10-17, 2010
REKINDLING THE CREATIVE SPIRIT
A fundraiser for the Hui
Rik Cooke, Theresa Airey, Dewitt Jones, Jonathan Kingston
PO Box 280, Kualapuu, HI 96757
(808) 567-6430
email: hui@aloha.net
websites: Rikki Cooke - Dewitt Jones - Johnathan Kingston



This workshop is a collaboration between authors and photographers Rik Cooke, Theresa Airey, Dewitt Jones, motivational speaker/photographer, and photographer Jonathan Kingston. Rik will take students on photographic excursions discovering the unlimited beauty of Molokai and exploring the creative process. Theresa and Jonathan will help you turn your files into unique images through Photoshop and third party softwares. Dewitt will lecture on creativity and 'the inner self'; Rikki speaks about 'seeing simply'; Theresa teaches about 'interpreting the subject creatively'; and Jonathan will help us to polish our digital techniques. Together they will show you new possibilities in the art of photography. There will be time to reflect, relax and rejuvenate your inner spirit in the calming lovely atmosphere surrounding the Hui.



Prerequisites: The workshop is intended for intermediate to advanced digital photographers. You must have a good working knowledge of Photoshop. Bring a digital or film camera you know well and come with a laptop computer that you are proficient in your navigational skills. This workshop is primarily for MacIntosh users. If you are bringing a PC, we will not be able to answer your computer navigation questions.



Theresa Airey, author of Beginner's Guide to Digital Photo Art, Creative Digital Printmaking and Digital Photo Art is an international fine art photographer. Both Rik and Dewitt have shot extensively for National Geographic Magazine and their book division. Jonathan Kingston is a documentary photographer and competent teacher with high technical skills. See their websites above for more information.



For information on the daily schedule, see last years blog info by Jonathan Kingston



Proceeds from this workshop go to Ho'olana's native plant and photographic projects.



7 days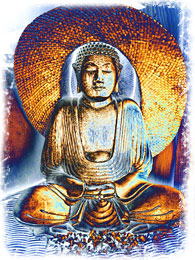 APRIL 24 - MAY 1, 2010
ANUSARA YOGA
Denise Benitez
Seattle Yoga Arts, 109 15th Ave E.
Seattle WA 98112
206-440-3191
email: yogaarts@comcast.net
The Sanskrit word 'anusara' means "to open to Grace," to align ourselves with the wisdom of nature. The Anusara method teaches an elegant system of movement principles which enable us to obtain optimal benefit from our asana practice while cultivating compassion and patience toward ourselves. With the abundant life force of Molokai as our teacher, we will delve deeply into our yoga. Each day of the workshop will have two yoga classes. The week will include many varieties of practice such as vinyasa, restorative yoga, chanting, meditation and other surprises!



Denise Benitez is the founder of Seattle Yoga Arts and is a Certified Anusara Yoga Instructor. Her teaching arises from a lifetime of investigation into creating nourishing meaningful movement, and a commitment to cultivating curiosity, spaciousness, and softheartedness in life and practice.



7 days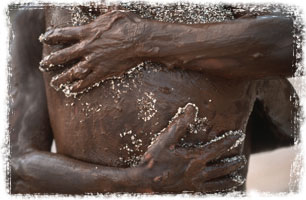 MAY 8 - 14, 2010
SOULFUL POWER
Christian de la Huerta
Miami Shores, FL
415-460-1177
877-773-7557
website: Revolutionary Wisdom
email: info@soulfulpower.us



Soulful power is humble, quiet and unassuming. It guides and inspires from a source and reference that are internal. This gentle power is about authentic self-expression, service and making a difference. It is love-based rather than fear-based, inclusive rather than hierarchical. Not needing to exert itself over others, soulful power stands freely on its own. It simply is. And it is mighty.



This retreat provides useful skills for engaging power in new ways, resulting in deeper levels of personal fulfillment, self-satisfaction and effectiveness in the world. With six transformational breathwork sessions you will emerge clearer, more established in your personal power and more resolved to express yourself fully as you:
Discover differences between soulful and egoic power
Learn to unleash your power in healthy & authentic ways
Identify & transcend personal obstacles to power & success
Experience more mastery in your life
Express yourself with more graceful authority in relationships
Find deeper levels of personal fulfillment & self-satisfaction
Rest, re-energize & rejuvenate
Christian de la Huerta is a seminar leader, group facilitator, master breathwork practitioner, and inspirational speaker to religious communities and on college campuses. He is author of the best-selling and critically-acclaimed Coming Out Spiritually.



6 days



MAY 23 - 29, 2010
THE HEALER WITHIN
Lee Lipsenthal, MD / Nita Gage, MA
415-482-9529
email: lipsenthal@aol.com



Lee & Nita originally developed this program for healthcare practitioners to help them to reconnect with their sense of purpose in serving those that they care for, however, due to the requests of many non-health care practitioners, this program is now open to all and has been a phenomenal success.



This workshop is an open invitation for individuals to take time-out and reconnect with their core values. The program will provide tools to evaluate and understand the issues of emotions in all of your life. We will combine discussions and experiential days to rejuvenate mind, body and soul. You will leave with an understanding of your unique stresses, a greater understanding of your soul's needs and practical methods for changing the balance of your life and the lives of those you care for.



This weeklong retreat is designed as a learning & healing vacation for singles and couples, both healthcare professionals and lay people alike. There will be ample time to relax and enjoy the beauty of Hui Ho'olana and the exquisite island of Molokai.



"This was the best seminar experience of my professional career of 30 years plus." - Juan B, MD



Nita Gage, MA has over 25 years experience and training in health care, behavioral health, in hospitals, clinics, and health care corporations. She works in residential and inpatient settings with addiction, mental illness and with people in states of20extreme spiritual emergency. Nita lives and works in Maui and travels throughout the US to facilitate transformational workshops. She is currently working on a book about women's transformational passages in midlife, titled Women in Storage.



Lee Lipsenthal, MD, ABHM is a Board-certified internist with postgraduate training in cholesterol disorders and cardiac rehabilitation. He is the former Medical Director of The Preventive Medicine Research Institute with Dr. Dean Ornish, the Past President of The American Board of Holistic Medicine and serves on the Board of Directors of The Institute of Noetic Sciences. He is the author of Finding Balance in a Medical Life and has contributed to many journals and text books in this area. He travels the world as a lecturer and consultant to hospitals, lay public groups and physicians groups.



"Before this program I had to justify every minute I spent not doing something for someone else." - Tish H., MD



6 days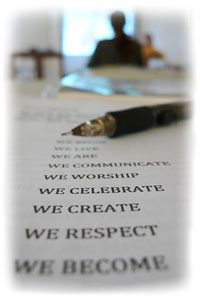 JUNE 5-11, 2010
LEGACY OF THE HEART
A Life-Changing Retreat
Gloria J. Burgess, Ph.D
C/O Jazz inc., PO Box 777
1102 12th Ave. North
Edmonds WA 98020
206-954-0732
website: www.gloriaburgess.com
email: huiworkshop@gloriaburgess.com



One of the best gifts we can give is to be conscious and intentional not only about what we do, but also about who we are. Gloria Burgess, master facilitator and teacher, will be your ally and guide as you embark on the most exciting journey of your life, a legacy of the heart. In our fast-paced lives, we can become disconnected from our true selves and the beauty within and all around us. Legacy of the Heart is about reconnecting with your inner beauty and calling, and reigniting your soul's desire. When we do, we can be of greater service and light the way for others to do the same. Through insightful teaching, dialogue, movement, meditation, creative arts, and time in nature, you will explore practical tools to align your values and actions, tools you can use anytime and anywhere. You will leave restored, recommitted, and rejoicing about living your legacy, now.



Gloria Burgess has taught and led retreats for over 30 years. Author of Dare to Wear Your Soul on the Outside and Legacy Living, she is an award winning author and poet. Gloria holds a Ph.D., MBA, and MA in organizational and individual effectiveness and is known for her commitment to honoring and uplifting the human spirit.



6 days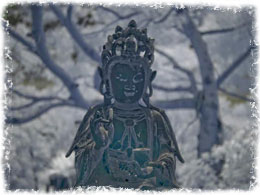 JUNE 19-25, 2010
THE HEART OF MEDITATION
Flint Sparks & Donna Martin
Flint - (512) 458-2900 - Texas
website: Flint Sparks
email Flint: flint@flintsparks.com
Donna - (250) 374-2514 - BC, Canada
website: Donna Martin
email Donna: hakomiway@gmail.com



Enter the very heart of meditation. To create an integrated experience, we'll offer a variety of practices including mindfulness, yoga, zazen, silence, and the Hakomi Practice of Loving Presence. Amid the peaceful beauty of Molokai, the island known as the "heart" of Hawaii, we'll weave these practices into the tapestry of our lives.



Flint Sparks is a psychologist and certified Hakomi teacher with a private practice in Austin, Texas. Flint has taken ordination in the Zen lineage of Suzuki Roshi. He teaches and leads retreats throughout the U.S. with an emphasis on the interface between psychology and spiritual practices in personal transformation.



Donna Martin has been a student and teacher of yoga and meditation for thirty-five years. An international Hakomi trainer, Donna teaches Hakomi and the Practice of Loving Presence (psychotherapy as spiritual practice) at various centers internationally. Together, Donna and Flint offer an integral approach combining physical, emotional, and spiritual health practices



6 days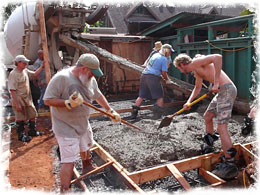 SEPTEMBER 26 - OCTOBER 3, 2010
OPENING CAMP
Hui Ho'olana Staff
PO Box 280, Kualapuu, HI 96757
(808) 567-6430
email: hui@aloha.net
See more information on the web flyer.



Opening camp is a sweet treat for returning friends and family who come to help us prepare for the workshop season. This is a smaller camp than the one next February, a time dedicated to enjoying each other's company as we playfully work and mindfully create together. There will be carpentry, planting and maintenance projects as well as cooking opportunities as we open the Hui.



We will divide into teams and make a schedule (working about 4 hours in the morning and 3 in the afternoon) with a day off for beach and play.



This retreat fills quickly, so please register soon. The camp is open to people who have participated in a workshop here in the past. We look forward to music and singing so please bring musical instruments!



Call, write or email for an application to attend.



7 days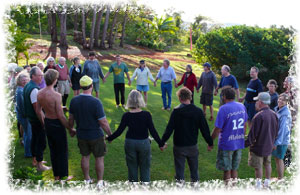 OCTOBER 10-16, 2010
SOMA SOUL
Liberating Spirit in Matter
Maleko K Pohaku
Kaori Fujio and Masako Iwamoto
email: jewel@kbh.biglobe.ne.jp



Therapeutic Touch practitioners from Japan will join Maleko Pohaku for a week of intensive hands-on training. Course work will draw from scientific, traditional and esoteric influences that have shaped Maleko's eclectic form of integrative bodywork. During morning and afternoon classes he will share the touch wisdom-skills he has refined over the past 30 years, opening a vast healing-arts "tool-kit" for each participant. Different strategies, according to body type and constitution, will be studied along with the opportunity to investigate personal health questions. As the class unfolds, Mother Molokai will encourage the soulful emergence of hidden sensations, feelings and perceptions.



Maleko's hands-on practice is a catalytic synergy of east-west therapeutic modalities, an infusion of bio-energetics and bio-mechanics. He is appreciated for his ability to "read a body's story" in terms of structure, function and energy fields. His specialties include tissue modeling, structural integration, bio-energy and neuro-somatic interventions. Maleko is licensed in Hawaii and certified by ABMP.



Kaori Fujio created and teaches Five Senses Approach, a treatment for face & body, at her massage salon in Japan. With over 15 years hands-on experience, she was certified as an Esalen Massage practitioner 4 years ago.



Masako Iwamoto has over 20 years hands-on experience. She gives Esalen massage at spa resorts and guest rooms of traditional Japanese-style hotels. She is happy to share her knowledge of bodywork and bodywork business to help new practitioners.



6 days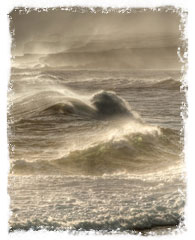 OCTOBER 23-30, 2010
SEE THE LIGHT!
Dewitt Jones & Jonathan Kingston
707.838.4379
email: monique@dewittjones.com
web site: Kingston Images



Every photograph is a moment of personal expression and self-discovery. Join Dewitt and Jonathan for a 7-day seminar as they teach both the technique and the spirit of photography.



Photograph from the highest sea cliffs in the world, wander through ancient rain forests, swim in the warm waters of secluded beaches. Explore the reasons why we photograph and discover new ways to see -- more and more deeply. Live together as a family of photographers searching for both images and insights. As well as the instruction at the Hui, we will be taking photo excursions throughout this island paradise. We have special access to Mo`omomi Preserve, one of the last protected Hawaiian Coastal ecosystems. We'll shoot waves at dawn, hula dancers in a palm grove at sunset, and stunning flora and fauna. You will find enough beauty here to last a lifetime.



Dewitt Jones (perhaps better known as "Basic Jones" of Outdoor Photographer Magazine) will be your guide into the soul of photography. Dewitt will take you on a journey that uncovers the "Why" of taking pictures that is so often overlooked when we focus too much on the "How". Dewitt spent 20 years as a photographer for National Geographic and another 10 years shooting major national ad campaigns. He makes great images. He is also a great teacher who will inspire you to create your own extraordinary visions, both in your photography and in your life.



Jonathan Kingston will be your digital guru. Today, the computer has replaced the darkroom as the final step in the photographer's creative process. It is here where images truly come alive. Jonathan will teach you the methods that will enhance your vision. He is not only one of the best emerging photographers in the country, he is also a highly sought-after digital consultant. Some of the most established names in photography have relied on Jonathan for his expertise while making the transition from film to digital. His great love of photography is matched by his great technical knowledge.



6 days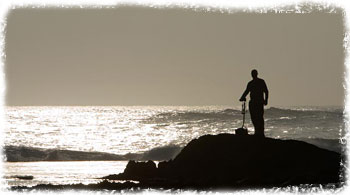 NOVEMBER 6-13, 2010
PHOTOSHOP FOR THE SOUL
Jack Davis, with Dewitt Jones and Rik Cooke
email: JHDDesign@aol.com



Jack Davis will once again be teaching a digital photography and Photoshop workshop with Hawaii Kama'aina (locals) Dewitt Jones and Rik Cooke. It is a once-in-a-lifetime opportunity to study, shoot, create and just "live" with three world-renouned experts on photography. Jack¹s latest book, Passion, Permission & Pixels: Igniting your Creative Photography, will be a "catalyst" for the week's creative explorations. Learn how the latest Photoshop and Lightroom can be used as tools to complement, extend, and automate both creativity and production, giving you creative options that you may never have had the opportunity to dive into before. Students will gain invaluable insights and techniques focused on helping them translate, craft and fine-tune their "captures" into a personal story. On our fieldtrip/shoots, we will provide essential insights and assistance on the technical side of photography. There will be evening slide shows and attendees can plan on some dedicated one-on-one Q&A time.



Jack Davis is best known as the coauthor of the award-winning and best-selling guide to Photoshop, The Photoshop Wow! Book. For over 20 years Jack has been an internationally recognized creative spokesperson on digital imagery, leading numerous hands-on workshops around the US and abroad. His book, How to Wow: Photoshop for Photography, showcases his addiction with photography and the process of going beyond what was captured to what was experienced.



Rikki Cooke will be our guest lecturer and our island guide. He has shot extensively for National Geographic Magazine, and has taught at many photographic workshops over the last 20 years. His experience touches the full spectrum of photography, from lighting pyramids to photographing polar bears in the Arctic as well as national advertising campaigns for commercial clients. He and his wife Bronwyn are the authors of the award-winning book, Molokai, an Island in Time.



Dewitt Jones is a National Geographic photographer of many years. He and Rik have taught together for 16 years. Dewitt has done five books, which include, What the Road passes By, Canyon Country and Visions of Wilderness. He is also known for his commercial photographs for Dewer's Scotch, United Airlines and Canon Cameras. In recent years he is most noted for his talks on creativity that have inspired many corporations and large audiences.



7 days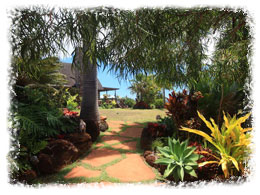 NOVEMBER 20-26,2010
MIND BODY SPIRIT and YOGA
Beth McCann
10534-30 Avenue
Edmonton, AB T6J2Y2
Canada
(780) 434-0741
Web site: yogabybeth.com
email: bmccann@telus.net



Experience yoga and Expressive Arts in a relaxing and mindful way, taking time to integrate the poses with visual arts: writing, music, movement, storytelling - and learn more about yourself in the process!



Through gentle yoga postures, supportive breath work, integrative meditation techniques and expressive arts experiences, you will be encouraged to awaken your unique being and experience the joy of sharing with others on the same path. Open to beginners and advanced students.



Beth McCann has been a certified yoga instructor for twenty-eight years. She has her own yoga studio, Yoga Connection and teaches for the Outreach program in Alberta training new yoga instructors. Beth feels that yoga is a journey of self-discovery and encourages her students to take the exciting journey and go within.



6 days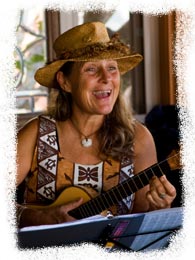 DECEMBER 4-10, 2010
UKULELE
Experience the Joy!
Kimo Hussey
46-426 Hulupala Place
Kaneohe, Hawaii 96744
(808) 561-3192
Web site: PMF Hawaii
email: kimo@pmfhawaii.com



Let time-away and the secluded, serene beauty of Molokai facilitate a total and comprehensive experience in ukulele music and training. Sessions will address music theory as it applies (very simply) to ukulele familiarization, left and right hand techniques, suggestions for effective instruction, performance parameters, program building, effective practice strategies, song selection, choosing and caring for the instrument, historical perspectives, networking and any other facet of ukulele you'd like addressed.



Our instructional process begins in June, when we will forward all attendees handouts, exercises, chord progressions, songs and various practice strategies to prepare for our workshop sessions. These 6-month, pre-workshop activities will help us create a better common starting point and allow more meaningful musical involvement when we meet. We will also maintain dialogue the entire 6-month period to help maximize your enjoyment of the time we spend at Hui Ho'olana.



This program for novice to advanced musicians is unmatched in detail, continuity and practicality. Let's kanikapila!



Kimo Hussey, Executive Director of the Pacific Music Foundation, has 30+ years' experience in training as well as facilitating workshops in various disciplines. He is degreed in music (choral conducting), published, recorded and experienced in vocal and instrumental performance worldwide.



Dr. Arthur Harvey, one of our nation's premier experts in the field of music-for-therapy, will be in attendance as an ukulele student and will also provide us several workshops in his field of interest.



6 days




---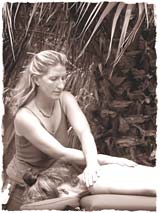 Hands-on Therapy


Hui Ho'olana offers opportunities for massage and bodywork.



Introduce A Teacher
Hui Ho'olana enjoys sponsoring new and innovative teachers, especially from Hawaii. If you know of a teacher you would like to have us support, please have them contact us.



Introduce A Friend
Do you have a friend who might be interested in our teaching and reforestation projects? Give us their name and address and we will gladly place them on our mailing list for a catalog.