DIRECTORS
Bronwyn Cooke, President, Treasurer
Richard Cooke
, Vice President
Tom Green, Secretary
Bill Stanley, MD, Director
Flint Sparks, Director
Philip Teyssier, Director

ADVISORS
Tom Ackley
Bill Allen
Brad Andrews
Erik Durfey
Dewitt Jones
Lucy Lamkin
David Lunney
Harold Marsh
Lynette Sheppard

PROGRAM DIRECTOR
STAFF CO-ORDINATOR
Bronwyn Cooke

OPERATIONS
Rik Cooke
John Kneton

GROUNDS and LANDSCAPING
Russ Layton
Ron Gomes
Josh Felsinger

GALLERY/HOSTESS
Arlinka Blair
Patricia "Sparky" Kneton

WORKSHOP MANAGER
Bronwyn Cooke

GARDEN/ORCHARD
Butch Hasse
Bronwyn Cooke
Patricia "Sparky" Kneton

VOLUNTEER CO-ORDINATOR
Joyce Haase

OFFICE MANAGER
Carla Dudoit

HOUSEKEEPING
Wanda Vianzos
Laila Pastrana

SWEETIE CART
Evelyn Haase


Who we are


We are a group of teachers, medical professionals, architects, artists, musicians, writers, landscapers, environmentalists, gardeners, cooks, carpenters, people from all walks of life whose interests lie in the health and well being of the planet and each other.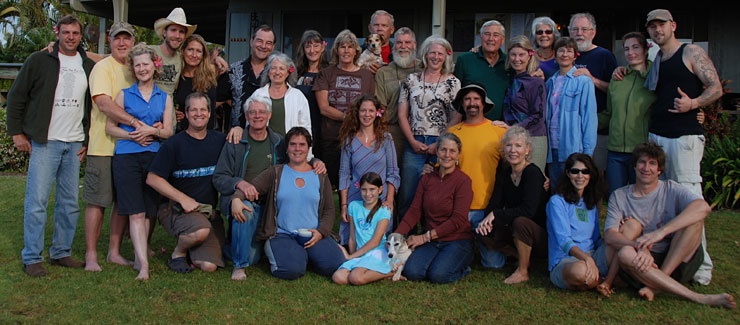 Into this learning environment we welcome you home to experience the peace and inspiration that can come to light in an atmosphere of acceptance, respect and support.



Malama ka 'aina (protecting the land) is at the heart of all we do. As we continue to explore living more simply, pursuing sustainability and practicing ho'oponopono (the Hawaiian concept "to make things right"), we hope to create the circumstance for unlimited possibilities.