THE HEART OF SEEING – A Fundraiser for Hui Ho'olana
An 8-Day Photographic Workshop at The Hui ~ Molokai, Hawaii
Seeing simply, creatively expressing our inner vision,
reconnecting with our environment, creative arts, including our photography and ourselves
Accommodations at the Hui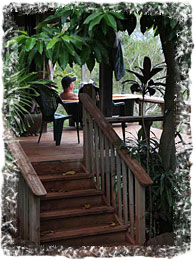 In 1967 the Cooke family built a lodge for themselves on land that had been in the family since 1908. This lodge now serves as the primary facility for our guests during workshops. While here you can count on sharing a room with one or two others if you come alone, or with your partner if you come as a couple. Contact your instructor who will determine room-sharing arrangements for singles and couples, as well as our available accommodations.
All bathrooms are shared, including our two outdoor shower houses. A popular highlight for many guests is relaxing in one of our outdoor claw-foot tubs. A hot bath under the stars is not to be missed.

Our guests can look forward to an experience that is simple and close to the earth. Be prepared for natural surface, uneven walking trails as you walk around the property. This requires some fitness and a willingness and ability to hike short distances up a gradual 20% incline.
Please be aware that the Hui Ho'olana is set in a camp-like environment, and that our facilities are not fully accessible for individuals with some types of disabilities. The access to most parts of the center is via natural-surfaced foot paths of up to a quarter mile on a moderate incline. Guests will need to take personal responsibility for their own physical abilities and for using flashlights for lighting during the nighttime hours.



Please print the liability release form, sign and send to your instructor before you arrive.



Karma Yoga is a practice of offering time in support of the household needs of your retreat and is an intrinsic part of living in community. Staff and guests all participate in karma yoga on a daily basis. You will each be given a small job like sweeping a deck or wiping the tables after meals. It is a fun way to feel truly a part of your group experience, and our small staff of volunteers greatly appreciates your willingness to contribute and participate in this way during your stay at Hui Ho'olana.
Food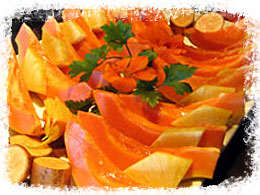 The Hui is known for its fabulous homegrown salads and delicious healthy cuisine. Meals are mainly vegetarian plus occasional chicken, eggs and fresh local fish and beef. They are created and served 'family style.' Most of what we serve is organic, and our food is locally grown to the degree possible.



Living on a remote island, menus are necessarily planned and shopped for in advance and based on local availability and seasonality of foods. We are therefore generally not able to accommodate special diet needs or preferences. If you are on a very specific or restricted diet consider bringing items you need to augment your meals as shopping on Molokai is very limited.



If you have any life-threatening food allergies, such as peanuts or shellfish, please let us (as well as your instructor) know as soon as possible before you come so that we can do our best to help you guard your health and have an enjoyable week of wonderful food.
Weather & What To Bring
As you are packing for your trip to Molokai be sure to go online to check the weather forecast, noting that the Hui is located up on a hill near the lower edge of the rain forest, and is therefore a bit wetter and several degrees cooler than the general Molokai forecast. Here is a link to the weather for our closest town, Kualapu'u
One of the most important things guests have learned over the years is PACK LIGHT! You need very little here. Pack so that you can easily carry your luggage up a staircase or down to your cabin. We do supply bath and beach towels. The nighttime island beauty of pure darkness and incredible starry nights are part of the magic of time spent on Molokai, so be sure you bring a flashlight.
2-3 light changes of clothing that can be rinsed out is plenty.
Bring something warm for our cool evenings, such as a fleece jacket and a pair of warm socks.
Slip-off shoes or sandals (Hawaiian custom is to remove your shoes before entering a home).
You will be walking on paths at night with minimal or no lighting, be sure you bring a flashlight.
The strong sun and amount of time spent outdoors can be more dehydrating than you might be used to, carrying a water bottle is essential for your energy and well being.
Bring what toiletries and sun screen you will need, as island shopping is limited.
Mosquitoes can be out at certain times of the year, so bring an insect repellent if this concerns you. Herbal products made with eucalyptus oil work well for many people.
During winter months it can be rainy so a light rain jacket would be wise.
Accommodations & Activities
Accommodations on Molokai
If you are interested in spending a night or more on Molokai before or after your workshop, there is one hotel on the island, Hotel Molokai.
Other accommodation information can be found at VisitMolokai.com and molokai-hawaii.com.
Activities on Molokai
A list of Molokai activities can be found at VisitMolokai.com
Here are a few of our favorites;
Molokai Fishing for deep sea fishing trips, whale watching and snorkeling – Mike Holmes 808.336.0047 or 808.567.6789
Alyce C Fishing for deep sea fishing – Joe Reich – 808.558.8377
Molokai Fish and Dive for whale watching, snorkel and scuba trips and ocean kayaking – 808.553.5926